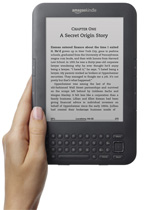 Amazon Kindle books have taken the world by storm. The original Amazon Kindle was introduced in 2007, but even then it was clear that reading would never be the same again.
For us in Jamaica the big question became would we be able to use it in Jamaica. However Wi-Fi has fixed all of that and we were all able to buy and download our books instantly. This very convenience is what has made the Kindle such a hit. But this leads to the next question, what are the top selling Kindle books of all time.
The results may surprise you.
Top Selling Amazon Kindle Books Ever:
Well as you can see, some books are just made for Kindle. Or should we say, some authors are made for the Amazon Kindle. We know that both these authors (E. L. James and Susan Collins) are huge successes on their own. But clearly their books are favoured greatly by the Kindle crowd.
What would be interesting is whether or not those books are indeed popular with us in Jamaica. Do you think this list would hold true in Jamaica? Let us know your thoughts.