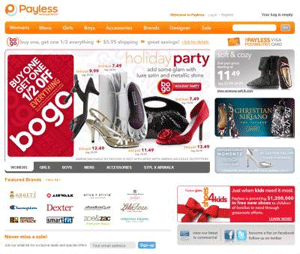 Payless – Site Review
Pros
Even though we now have Payless stores in Jamaica, the online store still offers more selection than what we have in the actual stores. This is not only in Jamaica. All across America the online store at Payless offers more selection than the physical store.
Cons
Payless online has never been the best at speedy and effortless delivery. Sometimes you end up waiting while to here if the shipment has reached your U.S. mailbox yet. That said the the items do arrive as ordered, there are no mix ups or defective products for the most part.
Processing is a sometimes a problem at Payless. Far too often they do not accept our U.S. mailbox address as a viable shipping address. And when they do, they don't accept our credit card address. Some people seem to have no problem while others can't get it to work at all. We are not quite sure what is the problem there, but we suspect it might be how you enter your address and what your address is. See our tips on how to overcome Payless online processing issues.
All in all you can get great deals on Payless especially for back to school shoes and cool hang bags. The selection might be limited but they are affordable and consistent in quality and value.