Hello Savvy, Frugal Shoppers ! That title was not read in error it actually does say 'FREE SHIPPING WORLDWIDE". SheInside is a U.K based Clothing and Accessories Online Boutique that specializes in all the things women love. It is no different from most Online Boutiques of that nature in that to have access to the best deals you have to sign up and become a member .  This website has over 2 million items in stock and up to 500 new arrivals ecah day.  Here are some great reasons to be a member :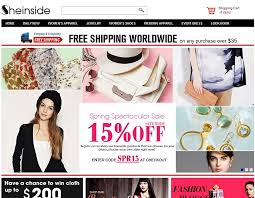 The Benefits As a Member
When you first sign up you get a 15% Coupon that comes ( with an expiry date ) that can be used towards your purchases. There are also several Programs created to suit almost all your shopping and business needs based on your interests and professions. These are :
Bonus Points Program
This is basically where you get points added to your account for sharing the items on SheInside on Social Media ( Facebook , Twitter , Lookbook , Polyvore , Wanelo , Forums and many others) There is also the option to review SheInside items that you've purchased and share on this site. Each review earns you up to 5 points.  The final option is to convert money into Sheinsidepoints. For each purchase you make you get $1 towards your bonus . If you spend $100 in case on the site … you get 100 Sheinsidepoints.
Affiliate Program
SheInside partners with Comission Junction , Linkshare and Shareasale . If you have accounts with any of these sites , simply log in and SheInside to your existing account. SheInside Affiliates get 100% Commission  from all sales made ! This is great if you have a Fashion related Website.
Fashion Blogger Program
This is ONLY for Fashion Bloggers . The requirements are a bit much , but on the other hand you are getting high quality clothing Free . To be accepted into this program , you must have : over 1,000 followers on your Blog ( Bloglovin or Google Friend Finder) , you must also have 5,000 fans on Social Media . The Free Clothing that is awarded each month can range from $40 – $200.
If you have an Online Store or planning to open one , sign up with SheInside . All Wholesale orders have to be $200 or more.
As it relates to Shipping , they do ship Worldwide ( Jamaica included ) however it is Post mail a.k.a "Snail Mail " which takes 15-25 days. It's slow but it's FREE to get quality items. Click Here for info on Shipping. The look of the site reminds me of Sammy Dress to an extent , however their live chat is actually "live" , you are able to ask all your questions and get your answers in real time . That is a plus as with these type of websites , that area of communication is lacking. This is a great site for all Shoppers from around the world because of FREE SHIPPING , be sure to also opt for the newsletter so that you can be informed when there are new items and sales.