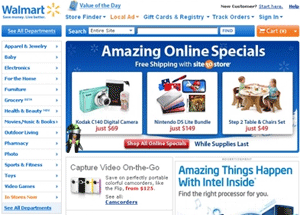 Walmart – Site Review

Summary
The Walmart brand is forever tied to affordable prices and this what we love about when shopping from Jamaica. Not only is the online shopping experience smooth and easy, but the items are so reasonably priced that it allows us to sometimes take a risk with with our purchases. The site is also super fast, which is not something we can always say about other shopping sites.
In Jamaica we love all the low cost super stores, such as Walmart and Target. Online is no different and we can do it without buying a plane ticket. We find that the experience with Walmart online is very similar to shopping in the actual store. One gets the same sense of value for money and the selections are wide and varied. Finding sizes and colours are no problem.