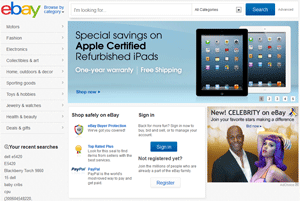 eBay – Site Review
Jamaican's love eBay! It may just be the natural instict that we have with buying and selling. Whatever the reason, this site delivers on many fronts.
Pros
It offers hard to find items such as computer and car parts, while still providing a wealth of common items such as iPads, cell phones and more. While the overall shopping experience might be a little uncomfortable for some people (e.g. sending money to someone they don't know for an item they have never seen) most Jamaicans are comfortable with the process. Seller feedback makes it easy to identify trust worthy sellers, and the reason anyone goes to eBay is always the same…great deals!
Cons
Because you are dealing with individual sellers and not an established major site, shipping can often get delayed because of one reason or another.
Online auction sites can be confusing. Start price, reserve price, BuyItNow price. Shipping free vs shipping not free, USPS vs FedEx. For the casual online shopper this may be too many things to have to worry about.
Summary
Jamaica knows eBay well and we agree that it makes for a solid shopping experience mainly because of great prices and selection.