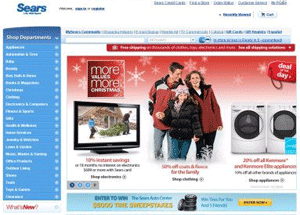 Walmart – Site Review
Summary
Sears has a very convenient website that allows you to see the cost of your items in our own Jamaican currency so you do not have to worry about price conversions, how cool is that? You can shop for top brands in appliances, clothing, home and garden, toys and games, bed and bath, tools and more.
Prices are reasonable and browsing is quite simple. Ship Your Way Max is a great service offered. With this service you are able to get your items at a set cost all through the year. They also provide you with layaway plans as well. Apart from convenience, one of the perks to online shopping is the many deals, sales, discounts and gifts you can be offered when you sign up. So while you are not physically in the store it is still fun to shop online with Sears.
Jamaicans love variety and low prices so you are "good to go" with this site. As they say "Shopping Internationally is Easy with Sears".